Southlake Communities Family Dentist & Orthodontics Specialist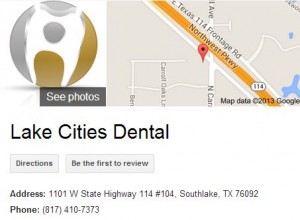 At Lake Cities Dental we pride ourselves in being your family dentist and orthodontics specialist in North Texas.  We would like to take a moment to welcome new families and patients to the Lake Cities Dental family as well as invite those looking for a warm and inviting dental practice.  Located in Southlake, TX, we sit nestled around our neighbors in Grapevine, Trophy Club, Keller, and Colleyville.  Lake Cities Dental has been serving the community in Southlake for 12 years with a wide range of dental services available and a wide range of financial options.
We understand a beautiful smile displays confidence and projects a positive and radiant demeanor.  It sends an inviting message that can be seen among friends, family, and coworkers.  It helps with trust during those important meetings, conversations, and conferences.  A strong smile displays happiness among children, confirmation from a parent and delight from a grandparent.  A warm smile can be seen through laughter, in times of great success and moments of accomplishments.  Who knew a smile was such a great and powerful resource?
If you reside in or around Southlake, TX, join us in finding the smile that's right for you.  At Lake Cities Dental, your personal touch is just a click: Schedule Dental Appointment or phone call away.  Our dentist and staff are eager to assist in answering questions and servicing your dental or orthodontics needs.  Here at Lake Cities Dental, we believe in "Dental Done Right".