What Do You Really Know About Your Tongue?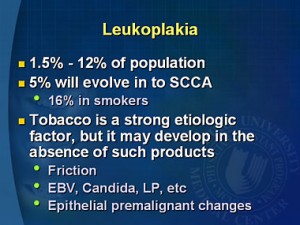 Sometimes a white or gray patch can develop on the tongue, the floor of a mouth, or on the inside of a cheek.  This is called Leukoplakia and is typically the mouth's reaction to irritation of mucous membranes.  Leukoplakia can surface at any time; however, it is more common in senior citizens.
Leukoplakia can also occur in an unusually "hairy" form which is caused by the Epstein-Barr virus.  This rare form of leukoplakia is only seen in people infected by HIV, AIDS, or AIDS-related conditions.  It appears in fuzzy, white patches on the tongue and does not typically appear anywhere else in the mouth.  This form of leukoplakia can resemble thrush which is an infection caused by Candida which occurs when the immune system is not functioning properly.  Thrush is often thought to be the first signs of infection from the HIV virus.
Causes of leukoplakia can include:
-Irritation from rough teeth, fillings, or crowns, or ill-fitting dentures that rub against your cheek or gum
-Chronic smoking, pipe smoking, or other tobacco use
-Sun exposure to the lips
-Oral cancer (although rare)
-HIV or AIDS
If you show symptoms of white or gray colored patches on within your mouth, you may be showing signs of leukoplakia.  These patches can grow slowly over weeks and months and be thick, slightly raised, and could eventually harden or feel rough in texture.  They are usually painless alone but can be sensitive to touch or spicy foods, heat, or friction.  Consult your dentist if you feel you are showing signs of leukoplakia.
Lake Cities Dental, 1101 East State Highway 114, Suite 104, Southlake, TX 76092 / Call: (817)410-7373 / Website: https://wpdev.site/lcdv2 / Facebook: https://www.facebook.com/LakeCitiesDental / Twitter: @Lake_Cities