Enhancing your Visit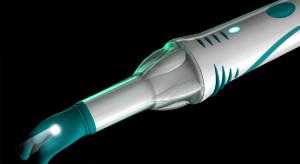 There is something about the medical and dental field that scares some people.  A fear perhaps associated with a past experience that felt unpleasant or the fear of the unknown surrounded by the equipment that gives off an intimidation factor.  Adults and children alike would prefer an enjoyable, stress-free, visit to any healthcare facility regardless of the reason.  At Lake Cities Dental, the humanistic side of dental care is not forgotten as we too would prefer a more relaxed and inviting visit.  With DentalVibe, comfort is exactly what we are looking to provide with your dental service.
DentalVibe was designed with you in mind for combating the fear of pain associated with injections.  No one likes a needle simply because of the pain that comes along with it.  With VibraPulse technology, DentalVibe blocks the discomfort of those annoying injections that forces most to dread a visit to the dentist.  As described at http://www.dentalvibe.com/, DentalVibe details how this technology works on their website:
The micro-sonic oscillations of DentalVibe's comfort tips are pulsed in a controlled synchronized wave pattern. Along with an enhanced amplitude, VibraPulse Technology sends a soothing percussive or tapping stimulation deep into the oral mucosa, gently exciting the submucosal sensory nerve endings.
Anxiety shouldn't be something that you associate with keeping yourself in good health.  Lake Cities Dental is always striving to make your experience the best it can be.  Visiting a dentist should be no different than visiting a spa and being pampered.  Our goal is to strive in relieving tension and focusing on the pampering of your smile.