Getting Familiar with Dentures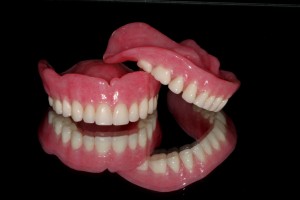 Dentures are made in place of missing teeth to help with biting, chewing, and recreating one's smile.  Typically dentures are created due to gum disease, tooth decay, and accidents or injuries in which a person has lost their natural and permanent teeth. Dentures are made to increase one's appearance and health by way of being able to eat and speak while providing the appearance of teeth. Without teeth muscles in the face can sag and give an older appearance.
There are many types of dentures. The ADA (American Dental Association) lists the following:
-Conventional. This full removable denture is made and placed in your mouth after the remaining teeth are removed and tissues have healed, which may take several months.
-Immediate. This removable denture is inserted on the same day that the remaining teeth are removed. Your dentist will take measurements and make models of your jaw during a preliminary visit. You don't have to be without teeth during the healing period but may need to have the denture relined or remade after your jaw has healed.
-Overdenture. Sometimes some of your teeth can be saved to preserve your jawbone and provide stability and support for the denture. An overdenture fits over a small number of remaining natural teeth after they have been prepared by your dentist. Implants can serve the same function, too.
Wearing dentures are no different than your natural teeth. Dentures are just a new lease or alternative to maintaining a normal lifestyle, but dentures should get the attention and same oral hygiene as one's natural teeth.
Steps to maintain dentures include:
-Rinse your dentures before brushing to remove any loose food or debris.
-Use a soft-bristle toothbrush and a non-abrasive cleanser to gently brush all the surfaces of the dentures so they don't get scratched.
-When brushing, clean your mouth thoroughly—including your gums, cheeks, the roof of your mouth and tongue to remove any plaque. This can help reduce the risk of oral irritation and bad breath.
-When you're not wearing your dentures, put them in a safe place covered in water to keep them from warping.
*Source: http://www.mouthhealthy.org/en/az-topics/d/Dentures
Lake Cities Dental, 1101 East State Highway 114, Suite 104, Southlake, TX 76092 / Call: (817)410-7373 / Website: https://wpdev.site/lcdv2 / Facebook: https://www.facebook.com/LakeCitiesDental / Twitter: @Lake_Cities