Eating for a Healthy Mouth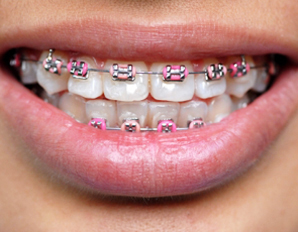 These days people are eating right to watch their waistline and for the longevity of one's health.  Having issues within your mouth can detour the types of foods you choose.  Most do not associate eating right with oral health unless you have braces, sensitive teeth, canker sores and so on.  In our 2 part blog series, we will explore issues in the mouth and what foods would go best.
Braces are a nuisance for any child trying to get by in school and in their social lives.  Braces tend to act like a shredder at the dinner table and can leave unwanted food particles lurking about.  Avoid any hard foods or anything sticky or chewy.  So basically, anything that kids want such as popcorn, candy, gum, corn on the cob, hard crust (typically on pizza), pretzels, peanut brittle and so forth.  Softer foods are best such as mashed potatoes, meatloaf, soups, oatmeal, soft shredded meats, peanut butter, macaroni, and cheese and so on.  Of course that also includes milkshakes, malts, applesauce, pudding, and all the other really sweet and yummy stuff.  As long as it's soft, the braces are ok, passing the worry onto cavities.
Of course there are things outside of food that can threaten braces as well.  Kids and teens like to chew on pencils and pens during class which can damage braces.  Being mindful and proactive is really the only way to keep your mouth healthy and safe.  Always remember to brush and follow the instructions of your dentist to keep any issues down to a minimum.