Straighten Your Teeth with the Modern Alternative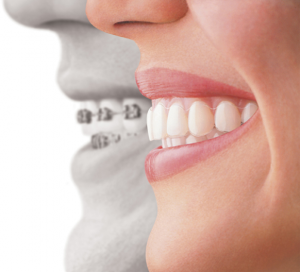 At Lake Cities Dental, we proudly offer Invisalign® which "takes a modern approach to straightening teeth".  Their custom made aligners are created around your teeth and are made of smooth, comfortable plastic that is practically invisible.  These alternatives to braces are clear and easy to clean yet these aligners also allow you to eat anything you want.  These aligners may not look like traditional braces but they function the same way by setting your teeth into place.
Metal braces can irritate and become unpleasant, while aligners offer an easier solution to straighter teeth.  What is great about Invisalign® is that not only will people be unaware that you are straightening your teeth, but the ease and comfort of these gradually shifting aligners.  With no metal and no tightening, you simply insert a new set of aligners every two weeks and follow the advice of your dentist or orthodontist.
Straighter teeth offer a confident smile that affects not only your performance but those around you.  Infectious and beautiful, having a smile you want to share with others is exactly where Invisalign® is looking to take your oral appearance.  Finding your perfect smile without hassle is as simple as Invisalign®.  For all the latest information visit http://www.invisalign.com/